Five Guys
11:00
-
18:30
11:00
-
18:30
11:00
-
18:30
11:00
-
18:30
11:00
-
18:30
11:00
-
18:30
11:00
-
18:30
Five Guys

Graben
11:00
-
18:30
11:00
-
18:30
11:00
-
18:30
11:00
-
18:30
11:00
-
18:30
11:00
-
18:30
11:00
-
18:30
Hours
Store Hours:
Day of the Week
Hours
Monday

11:00

-

18:30

Tuesday

11:00

-

18:30

Wednesday

11:00

-

18:30

Thursday

11:00

-

18:30

Friday

11:00

-

18:30

Saturday

11:00

-

18:30

Sunday

11:00

-

18:30
Takeaway only until 7:00 PM due to curfew. Delivery until 9:45 PM.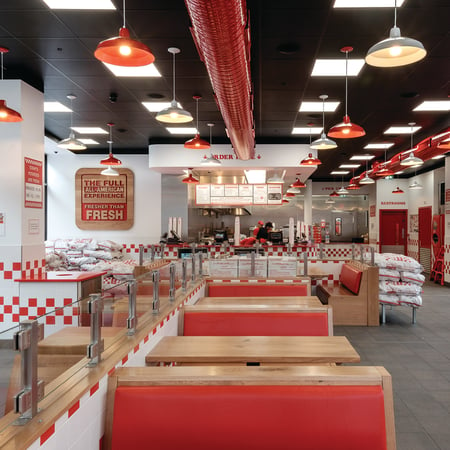 About Five Guys Graben
Welcome to your local Five Guys at Graben 30 in Vienna. It's your meal, so we believe that you should get exactly what you want. That's why we've got more than 250,000 possible topping combinations for you Burgers, Hotdogs and Sandwiches. Not to mention 1,000 different Shake mix-in combinations. Our famous fries are a 'boardwalk style' fry, meaning they're hand-cut on site each day and cooked in 100% peanut oil, will you go for Five Guys Style or spice things up with our Cajun fries? Join in on the fun at Five Guys, we look forward to welcoming you soon.
Services Available
In-store seating

Wheelchair accessible entrance

Good for kids

Takeout
What makes us unique?
There's no freezers in the joint

Our crew prepare and press our beef burger patties by hand each morning ready to serve in a toasted bun. Only the most premium quality beef is used. Our burger buns are made using a Five Guys secret recipe, using only free range eggs, making them soft, light and fluffy. If you want something a little different, you can also order a Beef Dog, Vegetarian Sandwich or a Grilled Cheese.

Thousands of combinations

We believe that you deserve your burger exactly how you like it. Customise your choice of burger with any combination of our 15 toppings, that's 250,000 different ways to order your Five Guys burger! If that isn't enough, we also have over 11 mix-ins for our shakes, ranging from Oreo Cookie Pieces to Bacon! There are over 1,000 different options. What will your winning combo be?

There's always an extra scoop of Fries

The stacked bags of potatoes you see when you walk into Five Guys are the very same potatoes that are hand-cut and prepared in store by our crew, before being cooked in 100% peanut oil to make the perfect fry. We believe in generosity, so you'll always get an extra scoop of fries in the bag when you order. Choose between Five Guys Style or Cajun if you want something a little spicy.
€
Burger